2023 Ram Sale
Posted: 05 November 2023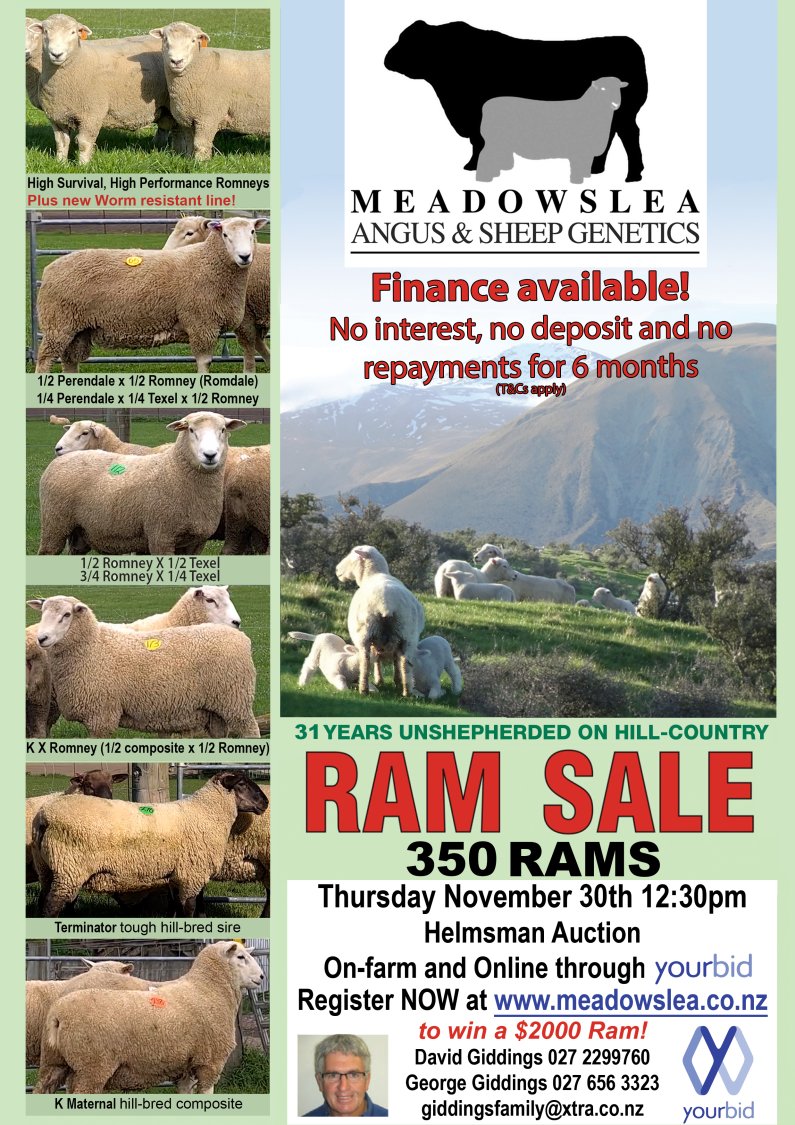 Ram Sale Thursday 30th November 12:30 pm 
350 rams across 8 different breeds.
There has been a lot happening here at Meadowslea as usual with some exciting new initiatives and some re-branding of our breeds. With a new government and a bit of moisture for most we have plenty of positive news for you!
Our Romneys continue to lead the way as we embrace new technology developments.
Our 2023 lambing has gone exceptionally well with record survival in the mobs tailed so far. This is the 30th year of unshepherded lambing and the changes in ewe mothering ability and lamb survival and vigour during that time is incredible. Mobs of twin scanned, totally unshepherded Romney stud ewes brought in up to 193% of thumping lambs at tailing.
Smart Shepherd Proximity Collars
Since getting out of the deer we bought on the new Punaroa block we have been able to lamb some stud ewes unshepherded in the steeper and higher parts of that place. With little in the way of yard facilities to do the traditional mothering-up in, we took this opportunity to trial SmartShepherd proximity collars.
The collars are applied just before tailing. We set up a temporary yard with our Racewell handler in a central spot at the back of the property. We then mustered each block individually and drafted off the lambs. The ewes are run back around and go through the handler, where their collars are applied. The lambs are tagged with EIDs and have collars put on them as well. The sheep are then let back into the same blocks they came from to mother up for 48 hours. We then get them in again, remove the collars, and tail the lambs. The tailing is done on the second time through, otherwise the lambs can sulk which can disrupt their behaviour. The collars themselves work by detecting every time a lamb comes within a certain distance of a particular ewe – at the end of the 48 hours, the ewe a particular lamb approaches the most will invariably be its mother.
This allows us to get accurate maternal pedigree data, while allowing completely unshepherded lambing. This data gives us vital pedigree and lamb survival information, and the patterns of interaction between individual ewes and lambs also gives added insights into the strength of their maternal bond. Accuracy of this technology was remarkably good, with 98-99% of lambs being paired successfully.
Micron testing - We took side-samples on all the white faced rams before shearing in August, and a finer woolled selection of Romneys are available ideal for breeding halfbreds or those trying to fine up their flock.
Worm Resistant Romneys – "Kiki South"
We purchased one of the biggest shares of the Kikitangeo worm-resistant Romney flock at the dispersal sales in North Auckland in 2021 and 2022. Kikitangeo studmaster Gordon Levett had pioneered parasite resistance and spent 40 years recording and selecting sheep that could push through a worm challenge. The ewes we purchased carried some of the highest worm resistant breeding values in NZ.
Since their arrival in Fairlie we have selected the ewes that have best adapted to our environment and mated them to some of the highest worm resistant sires available in NZ. The progeny have been run totally undrenched through two high worm challenging seasons.
Drench resistance in South Island sheep flocks has shown a massive increase in the last few seasons and we are very pleased to be able to offer our clients a proven genetic option to tackle what is likely to become a serious problem going forward.
Breed Rebranding
We have renamed our Kelso breeds for this season to better reflect our own breeding programmes, distinguish ourselves from the North Island bred Kelso sheep, and avoid brand confusion.
Terminator is the new name for the Kelso Terminals. We think it accurately describes their use in any breeding programme. These are tough hill-bred sires that breed lambs heading to early slaughter at top weights and yield incredibly well and are a cross of 8 different meat breeds so have all the hybrid vigour in the world!
K Maternal these high-performance composite sheep were bred from top performing Kelso Maternal Rams sourced from Kelso in the North Island, but we have tweaked the ewe replacements to increase the Romney content to suit our South Island farming system. The breed originally incorporated Texel genetics for yield and early maturity, a small dash of Finn for a massive fertility boost and a little East Friesian to increase ewe milking ability, all out of a Romney / Coopworth base.
We are open to suggestions for a permanent name for this breed going forward - give us a some ideas and we might put it to a vote - whoever suggests the winning name gets a free ram!
K Romney these popular sheep previously known as Kelso Romney continue to be bred using top K Maternal rams mated over our proven high performing stud Romney ewes. We are the only breeding operation in NZ breeding this cross and they tick a lot of boxes for high performing commercial farmers.
Our Romney x breeds give outstanding hybrid vigour options:
Romdale - We lease top SIL-figured Perendale ram hoggets from Rangiatea stud and cross over proven older stud Romney ewes to produce these thumping deep bodied sheep. 
Romdale ewes perform strongly for clients on harder country and our emphasis on strong hindquarters, early maturity, and fertility traits produces a tough, mobile sheep with a lot of "go" about them. We also have a stabilised option bred from our own leading Romdale ram lambs and out of our Romdale ewes.
Perendale x Texel x Romney - This breed continues to gain popularity and suits a lot of modern breeding programmes. Bred by using our own high indexing Texel x Romney rams over Romdale ewes, the resulting progeny of ½ Romney ¼ Perendale ¼ Texel are stacked with hybrid vigour and seem to highlight the best of all these breeds, giving a massive boost to weaning weight, performance, and yield.
Texel x Romney - This breed continues to be popular, and everyone knows the impact the Texel has had in terms of extra muscle and yield with fast finishing lambs, particularly at the weaning draft. We use high-indexing Texel rams over our older proven Romney stud ewes, and they produce thick-bodied progeny with strong bone, good feet, and exceptionally deep bodies. The top SIL-indexed Texel x Romney two-tooths are also retained and mated to our best first-cross ram lambs giving a more stabilised option.
¾ Romney x ¼ Texel - In response to client demand we now have the ¼ Texel option available. These are bred by mating a top Romney ram back over Texel x Romney ewes. The Texel influence is still very strong in these sheep, and they are virtually indistinguishable from the ½ Texels visually but exhibit more of the Romney mobility and temperament.
2023 Ram Sale - Thursday November 30th 12:30pm
Our annual Ram Sale is on Thursday November 30th with approximately 350 rams on offer. These are the top performing and indexing rams of all the breeds and we are certain this is the best line-up we have ever produced! This will as usual be a Helmsman-style auction through the Yourbid platform, with both online and on-farm bidding accepted. Full videos and catalogues will be posted online so if you're busy with tractor work or the school breakup you can still get a good look at them! Registration is open now and early registrants go in the draw to win a $2000 free bid!
Finance Available - Cashflow is tight for all of us this year, so we are offering a finance package on rams bought at the sale. The deal is no deposit, no repayments for at least 6 months, and we will cover the interest charges for the first six months!
Register now to apply through the Meadowslea website – www.meadowslea.co.nz. Termsand Conditions apply. Buyers must be preapproved prior to the sale - registration is open now.
Contact us
David Giddings 027 2299760
George Giddings 027 656 3323
23 Trotters Road
RD 17
Fairlie