Field Days Ram Sale - Full Clearance!
Posted: 16 February 2020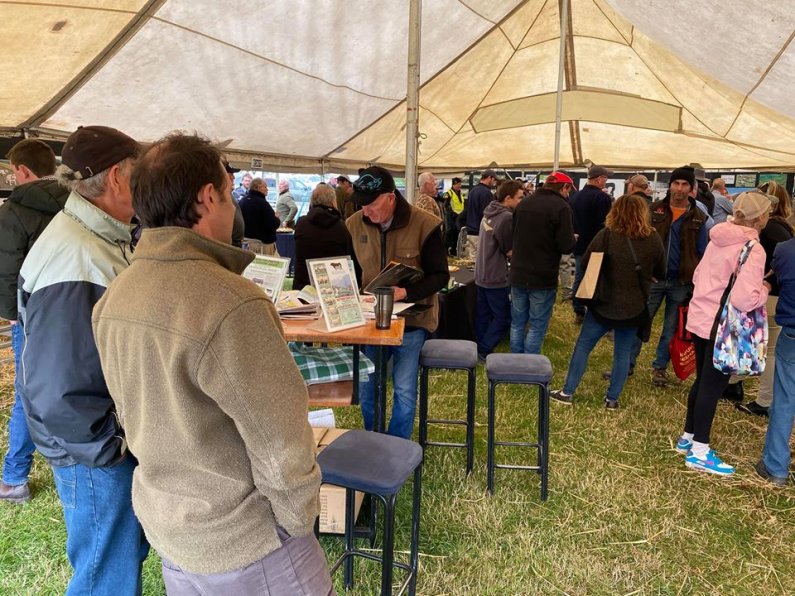 Meadowslea achieved a full clearance at our inaugural Southern Field Days Ram Sale last week.
Studmaster David Giddings says the stud first attended the Waimumu event 2 years ago, and was blown away by the interest in their hill-bred rams, as well as their Angus Cattle. "We had guys come up to us at the end and ask if they could buy the rams we had there – we said no as they were our keepers and we needed them ourselves – but it started something and two years later here we are!"
Between 70 and 80% of Meadowslea's ram sales now head into the Southland, South Otago and West Otago area, so to David it made sense to bring rams down to the market, and with a ready-made crowd the Field Days presented a great opportunity.
We offered 50 Kelso Terminal rams for sale – these are a hardy, hill bred, black-faced terminal sire, derived from a total of 8 different terminal sire breeds, produced over the last 25 years by mating top rams from the various breeds over a hill country ewe flock, and keeping and breeding from the very best of the surviving progeny. A real emphasis is put on producing thick, solid, and structurally sound rams who leave tough, fast growing, high yielding lambs for clients, and Meadowslea have been selling more and more every year and now run 650 of these ewes on ourhill block near Fairlie. This was the first time this breed had been offered for at auction in Southland, as well as the first time a ram sale had been held at the Field Days.
The rams were trucked down to Southland a week earlier on a backload, and spent several days on the Grants' property just west of Gore. Meadowslea set up our usual trade site at the Field Days in conjunction with Beltex NZ, and on the Thursday morning trucked the 50 black faced rams into the back of the tent. With health and safety rules requiring the trucks to be out of the ground by 8:30am this was always going to be a tight schedule, but with careful planning everything went to worked out. The rams spent the day in their sale pens, before the Helmsman Auction began at 2pm. They were trucked back to the Grants' after the Field Days closed, and all delivered the next day.
As well as these Kelso Terminal sheep, Meadowslea also displayed a selection of our white faced rams – the stud has always had Romney sheep, and in addition sells Perendale x Romney, Texel x Romney, Perendale x Texel x Romney and kelso Maternal sheep. These, together with another 40 or so black faced rams will be offered in the stud's Autumn Ram Sale, on farm just west of Fairlie on March 20th.
In David's words, "you're only ever as good as your next sale."